Before and after: A love story
Sean Amendola of F.S.T. Construction shifted his business focus after installing Beach House Shake on a $2 million lakefront home in Toronto, Canada. After 13 years of designing and building bathrooms, kitchens, decks, and basements, Amendola was convinced by his client to try a new category of exterior cladding that has the realism of cedar but none of the hassles. After doing one job with Beach House Shake, he was hooked.
Before: The natural cedar was "nasty-looking"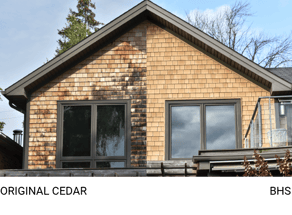 "The homeowner did all the research and told us she wanted to use Beach House Shake," says Amendola. "She loved the look of natural cedar but was tired of the discolored 'nasty-looking' shakes, in her words, that were previously on the house. She was excited to find that Beach House Shake captured the natural look of fresh white cedar—but without the upkeep or continuous staining and repairs. The home is located right on Lake Ontario and constantly beaten up by harsh winters and temperature changes."
Beach House Shake in Sandcastle was used as a gable accent in front and on the entire back of the house. Amendola completed the installation in less than two days with a two-man crew. "It was just awesome. I loved the functionality," he says. "The system fit together so easily I could have completed the project myself."
After: "You couldn't tell it wasn't real cedar"
"Afterwards, we just stood back and couldn't believe how authentic Beach House Shake looked—right down to the saw cuts, natural keyways and tone variations within each shake," he says. "You couldn't tell it wasn't cedar." Because the shakes are impervious to moisture, they should never need more than a light power wash to make them look brand new. "It's life-changing for the homeowner and transformative for our remodeling business," Amendola adds.