Joseph Sider and his father Frank are the faces behind Sider Lumber, a highly regarded building materials company located in Nesconset, New York on Long Island's North Shore. Founded a half-century ago as a lumber supply house, this third-generation business has now expanded into a four-acre mixed-use supplier with a growing client base and a reputation for excellence and integrity.
"We operate on the principles of leadership, teamwork, and customer relations," co-owner Joseph explained. "Our company is always evolving as the needs of our customers change, and as new opportunities are created in the market. We are committed to providing the latest services, technology and developments in the industry."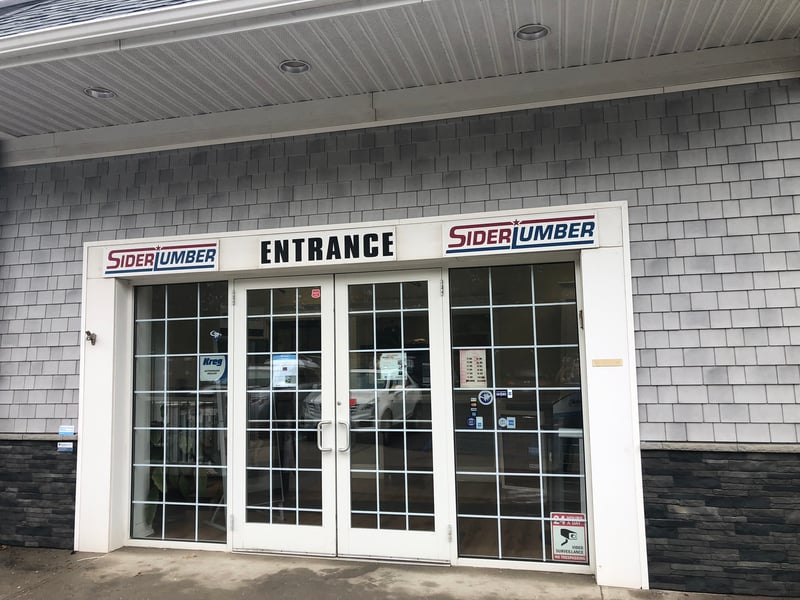 The Siders' pioneering spirit led them to join forces with Tando and their "Home Team Advantage" Dealer Beautification program. As first-time stocking dealers, the Siders were rewarded with all the merchandising items needed to promote Tando inside their store, and up to 10 squares of complementary Tando cladding materials and an expert advisement team for the exterior beautification. The upper exterior was completed with Beach House Shake™ in Atlantica, complemented by TandoStone™ Lewiston Crest for a stacked stone look as the skirting. The end result—an authentic, fresh cedar shingle and stone look for the Sider Lumber entrance point and a real-life, hands-on display for prospective buyers.
As general manager, Sider was impressed with the minimal disruption to his business. "The process was completed in one day and looks beautiful. Our clients can now see two fully installed products instead of just looking at them on the shelf. The response has been very positive." Tando's "Home Team Advantage" has been embraced by dealers nationwide.
According to Sider, "We work closely with our customers to ensure that the solutions we provide are tailored to meet their unique needs and challenges." During the one-day remodel, he and his team were able to observe how easily and quickly both products installed, knowledge which they'll be able to pass on to their customers. This personalized approach is one of the many customized services built in to the Sider Lumber business model, a formula that has kept them viable and relevant in a competitive market.
Over the years, The Sider Lumber team has seen shifting trends towards more durable building products. Propelled by innovations in design and a demand for sturdier structures, traditional cladding is no longer the first choice for beachside communities. Long Island's twenty-three-mile-wide expanse ensures that most home owners reside within 10 miles of open water—a mixed blessing—which has exposed many to the harsh realities of life near the sea. Permanent reminders of Super Storm Sandy remain etched into the altered landscapes of Long Island's North and South Shores. With severe weather events always possible, it's no surprise that battle-weary home owners are experiencing rebuilding fatigue.
Like Sider Lumber, Tando has built success by staying attuned to changing trends in the industry. Tando's ground-breaking products have redefined the exterior cladding category by replicating the natural beauty and texture of natural cedar shake and stone, with little to no upkeep. The panels are available in a wide range of textures and colors including the award-winning Beach House Shake™, which has converted many cedar purists. Ralph Bruno, Derby's CEO, describes it as, "tradition without compromise."
Impervious to moisture and resistant to all types of weather, Beach House Shake™ replicates the genuine appearance of natural cedar shingles with low upkeep and durability. Industry experts have been resoundingly impressed with the realistic appearance as well as the subtle grains that mimic saw cuts in order to create an authentic texture. In addition to the new Atlantica, a soft silvered coastal gray, Beach House Shake is available in three other shades—Hatteras, a weathered gray; Pacifica, the look of fresh western red cedar; and Sandcastle, the look of fresh white cedar. All colors will retain the color and beauty they have at installation for years to come – with no additional weathering or uneven discoloration
TandoStone, used as the knee wall, features the look of stone in a lightweight profile that installs faster and easier, with regular tools and much less labor than other stone products. And TandoStone is preferred by siding installers. It can also be installed by one person while eliminating the need for skilled masons. The product is available in two styles: Stacked Stone, which features a dry stack profile without grout lines between the stones, and Creek Ledgestone, which emulates the rugged look of hand-picked stone with grout.
"With a shortage of skilled labor, the intuitive, easy installation of TandoStone addresses many jobsite issues without sacrificing looks," explained Bruno. "While pros already love the lighter weight and faster installation, TandoStone also meets consumers' aesthetic demands with its proprietary Tando TruGrit™ texture."
The Sider's store front remodel will weather many Long Island weather cycles and stand as a testament to the durability of Beach House Shake and TandoStone. By joining the Tando Team, the Siders, like other dealers, are demonstrating that Tando is the new face of building exteriors.