QUEBEC CITY, QC – Tando® Composites announces Mid-Cape Home Centers, a Division of US LBM, as a flagship dealer in Massachusetts for Beach House Shake®, the authentic composite shingle. The largest building materials dealer covering Cape Cod and the South Shore with six locations, Mid-Cape Home Centers has supplied New England's builders, remodelers and homeowners with lumber and specialty building products for more than 125 years.
"At Mid Cape, we have served multiple generations on the Cape and surrounding communities since 1895 and we're known for supplying natural cedar shingles - part of the beauty and charm of this region," said Jack Stevenson, President, Mid-Cape Home Centers. "For the past several years, the demand of cedar shingles has outpaced the available supply. We've been researching alternative offerings to complement our natural cedar shingle business. It was paramount that the new product protects both the tradition and beauty of the Cape. We were looking for a product with the undeniable appearance of bleached cedar shingles. Additionally, unmatched performance and ease of installation were "must haves". After years of evaluating many alternatives, we're excited to select Beach House Shake as the brand that has the appearance, performance, and application ease for our customers."
Ralph Bruno, CEO and President of Derby Building Products, noted that Mid-Cape's commitment to Beach House Shake is a testament to the product's beauty and durability. Said Bruno, "We're honored to have Mid-Cape as our flagship dealer in the Cape. Consumer demand for Beach House Shake in this market has been extraordinary and Mid-Cape's leadership and commitment will ensure it's easy to buy."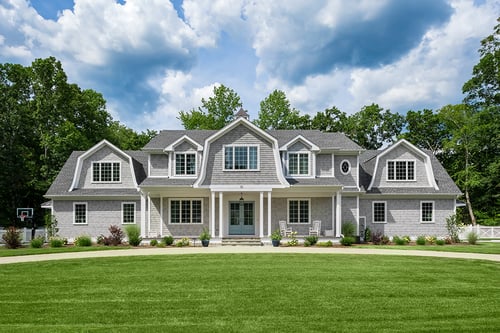 Beach House Shake delivers the coveted charm and beauty of natural cedar shingles down to the last detail - with natural color variations, genuine saw cuts, and detailed grain patterns of natural cedar shingles. Its architecturally precise 5" re-squared and rebutted lines create individual shingles as unique as they are beautiful. And with the proven performance and durability of a composite, Beach House Shake stays looking like the day it was installed for years, backed by a Beautiful Freedom 20-year limited warranty.
Beach House Shake is available in four natural cedar shades: Atlantica, a silvery gray reminiscent of bleached cedar shingles; Sandcastle, a fresh white cedar; Hatteras, a deeper gray found in southern coastal regions; and Pacifica, a fresh western red cedar shingle.
About Tando Composites
Tando, a brand of Derby Building Products, is the leader in composite exterior cladding with Beach House Shake®, the authentic composite shingle, and TandoStone®, the #1 brand of composite stone. Backed by more than five decades of product innovation, Tando produces high performance products professionals prefer and consumers demand. For more information on Beach House Shake or TandoStone, visit www.beachhouseshake.com or www.tandobp.com.
About Mid-Cape Home Centers
Since 1895, Mid-Cape Home Centers has been serving building professionals on Cape Cod, the Islands and South Shore. Whether you are a contractor, architect, designer or specifier, or DIYer, Mid-Cape Home Centers is your one-stop resource for all of your building needs. Our team of experts is prepared to assist you with every step of your project from start to finish. Learn more about Mid-Cape Home Centers at www.midcape.com.