Quebec City, Quebec – Beach House Shake has been named as a Remodelers' Choice Top 100 by Qualified Remodeler Magazine. The Remodelers' Choice 100 includes products generating the most requests from readers from April 2018 – March 2019. Beach House Shake received praise for its proven durability, moisture resistance, and authentic cedar shingle looks without the upkeep of wood.
"We're very pleased to have the attributes of Beach House Shake recognized by remodelers themselves in Qualified Remodeler's Top 100," said Ralph Bruno, CEO, Derby Building Products. "They can appreciate the real-life jobsite advantages of Beach House Shake, such as its easy one-person installation, its natural cedar shingle look, and the fact that it stays looking like the day it was installed with virtually no upkeep."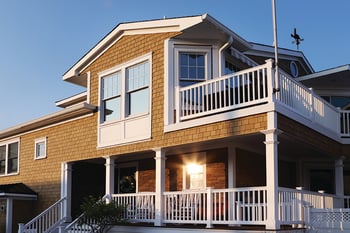 Beach House Shake installs in far less time than traditional wood shakes – often by only one person using a hammer or pneumatic nail gun – and each 100 sq. ft. of Beach House Shake requires less than 20% of the fasteners needed to install the same area of traditional cedar shingles. Beach House Shake provides contractors the perfect solution for
their customers who want the look of natural cedar shingles while providing homeowners with the freedom to enjoy their long-lasting beautiful exterior without the annual upkeep required of natural cedar shingles.
Beach House Shake will not rot, crack, split, or decay and is impervious to moisture and insect damage, allowing for installation along the roofline or at ground level without worry. Additionally, Beach House Shake has received a Notice of Acceptance (NOA) from Miami-Dade County, the strictest building code in the United States, which offers confidence that Beach House Shake will stand up to high velocity winds.
Available in four colors, Beach House Shake replicates a fresh natural eastern white cedar (Sandcastle), a freshly harvested western red cedar (Pacifica), and 2 shades of perfectly weathered gray (Hatteras and Atlantica). These options allow customers to choose the Beach House Shake color that best fits their style. And, with unmatched realism, Beach House Shake options perfectly complement any architectural style or on-trend mixed material exterior.
About Tando
The Tando brand of exterior building products leverages innovation and manufacturing technology to solve market challenges such as labor shortages, long lead times, and moisture concerns all while meeting consumer demand for mixed material exteriors and low maintenance. From launching the first polymer shake over 40 years ago to developing the #1 brand of Composite Stone, Tando has a proven history of creating new categories, including TandoStone™, Beach House Shake™, and TandoShake™. For more information, please visit www.beachhouseshake.com or www.tandobp.com.