Founder and CEO, Mike Cummings, takes the Miken Builders' pursuit of excellence promise very seriously. He and his team have gained a reputation for integrity, professionalism, and high-quality craftsmanship in Delaware's Bethany Beach, Dewey Beach, and Rehoboth areas—the result of decades of experience and top-notch projects. His son Sean, project manager for the Miken team, enjoys the reward that comes with taking a client's vision and making it a reality. He recently applied that principle to an innovative concept of his own.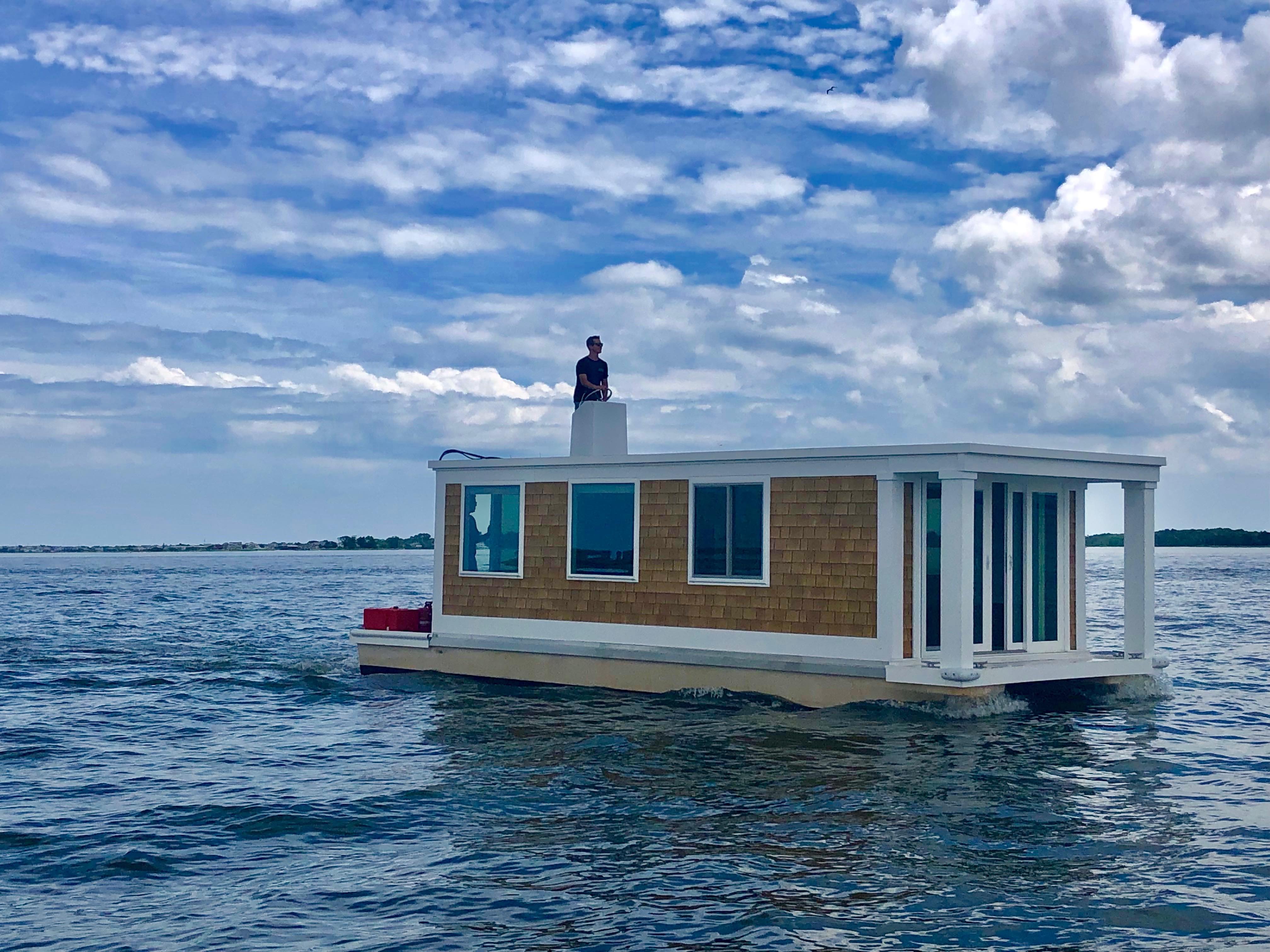 In partnership with dad Mike and brother Patrick, Sean designed and built a wow-factor houseboat that literally looks like a beach house, naming it "The 3 C's," after the three Cummings family members. Since its maiden voyage, locals have been entranced by the sight of a house that appears to have been uprooted from their own neighborhoods—including a front porch with trim and pillars—cruising along the Indian River Bay, an inlet of the Atlantic Ocean.
For optimal visibility, the helm was built into the rooftop, giving the driver stunning views of the bay and numerous opportunities to wave to enthusiastic onlookers. Thanks largely to the meticulous design and quality materials used in its construction, this head-turning craft has proven quite maneuverable, or "yar," in boatman's terms—a seaworthy vessel capable of navigating the open waters with all the typical comforts of home. It is supported by some hefty pontoons to keep it centered and afloat.
Sean wanted their novelty "home" on the water to have the look of cedar cladding, but he knew that real cedar—highly susceptible to moisture and sun damage—was not an option for this project. So, he opted for the moisture-resistant properties of Beach House Shake, a new generation of cladding that he first discovered a few years ago while building a Bethany Beach custom home. The Miken team found that that Beach House Shake identically replicated the natural beauty and texture of natural cedar shingles without the intense installation or costly upkeep. It is completely impervious to moisture and salty air.
Another must for a river or ocean vehicle was wind-resistance. Beach House Shake recently received a Notice of Acceptance (NOA) from Miami-Dade County, the strictest building code in the United States, which offers assurance that Beach House Shake will stand up to high velocity winds so the boaters have confidence that the shake won't blow off as they cruise even at high speeds by pontoon standards.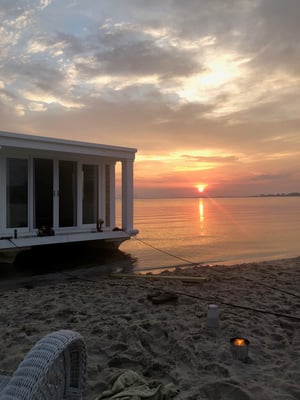 Sean, who opted for the Sandcastle color with the look of fresh-cut cedar for his projects, reflected on his team's initial reactions. "We were super-impressed. And when it came to installation, the crew loved it. When these pros, who have worked with cedar and polymers for years, first saw Beach House Shake installed, they couldn't believe it wasn't real cedar. They had to get up close and touch it to be convinced. Everyone who comes across it loves it!"
His dad, Mike, added, "Normally you'd pay four times the amount for this kind of fresh cedar look and to know it's going to stay looking this way for decades makes it even better." He would know—now a true believer, he re-clad his own house with Beach House Shake.
The lightweight panels with interlocking flanges made the process very installer-friendly and time-efficient – as it can be installed by one person using regular woodworking tools and a nail gun. Beach House Shake's color options include Sandcastle – a fresh natural eastern white cedar; Pacifica – a freshly harvested western red cedar; and Hatteras and Atlantica – two shades of perfectly weathered gray. All four colors feature unique cedar-style graining, variations, and realistic saw-cuts.
Sean's decision to install Beach House Shake on the exterior of The 3 C's puts the cladding to the ultimate test—withstanding the harsh Delaware coastal conditions as well as the open sea elements. "So far, it's been great," he reported.
It was also the ideal choice for The 3 C's "house on the water" aesthetic. The choice of Sandcastle, which looks like fresh eastern white cedar shingles, provided "that classic beach house look that we were going for," recalls Sean. And unlike real cedar, Beach House Shake won't fade, rot, decay, split or crack after spending countless days in the sun and sea.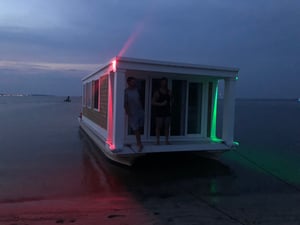 He reflected on The 3 C's endeavor as "a fun project that appeals to the imagination." Soon families will be able to create their own stories and memories aboard this whimsical watercraft as it becomes available for vacation rental in 2020 on VRBO and other sites.
Beach House Shake offers a product that—as the Miken crew discovered—looks so much like natural cedar shingles that even pros have trouble telling the difference. This industry shift has been a game-changer for all homeowners and especially beach dwellers, who can finally enjoy more leisure time at their seaside havens instead of scraping, repainting, or replacing damaged cedar shingles every summer.
Ralph Bruno, CEO of Derby Building Products, coined the phrase 'Beach House Shake - Beautiful Freedom' to convey the aesthetically pleasing, relaxed feeling of low-upkeep with Beach House Shake. If Sean's idea catches on, Derby may see a new trend of Beach House Shake houseboats on every coast – for sea lovers who love the look of natural cedar shingles without any of the hassles.